The Highland village of Strathdon lies on the banks of the River Don, in Aberdeenshire. It is located within the Cairngorm National Park, a wild expanse of mountains, heather moors, woods, and lochs. This quiet, rural community is the perfect base for visitors who want to make the most of the area's opportunities for outdoor activities such as hiking, cycling and wildlife-watching. On the doorstep of your holiday cottage in Strathdon, you will discover a variety of craft businesses. On the banks of the Water of Nochty, there is a post office and a small grocery, and there is a good bar at the Lonach Hotel, in the neighbouring village of Forbestown.
Every year, Strathdon hosts one of Scotland's most famous Highland games, attracting visitors from far and wide. Opening with a parade through the village by the Clansmen of the Lonach Highlanders, the games feature the caber toss, highland dancing, tug of war, and plenty more. Not to be missed on self-catering holidays in Strathdon, the remains of Glenbuchat Castle can be found a couple of miles to the village's east. Several famous whisky distilleries are located in the area, and the port city of Aberdeen is a scenic drive to the east from Strathdon.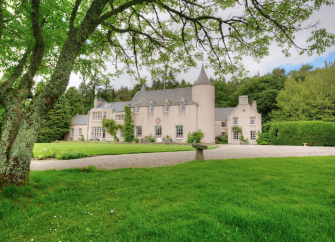 Baronial Bliss is a luxurious grand cottage on sumptuous grounds near Roughpark in Scotland. The regal castle sits among woodlands and ponds and offers majestic views, delightful outdoor entertaining areas and exquisite furnishings with log fires. The 17th-century property promises special memories.