Penmynydd, meaning 'top of the mountain' in Welsh, is a small village on the Isle of Anglesey. It lies in the southeast corner of the island, near the mainland. Nestled on a rugged hillside between Menai Bridge and Llangefni, this quiet community is an atmospheric base for self-catering holidays on Anglesey. The island's 276 square-miles are home to secluded beaches, unspoiled countryside and Wales' highest concentration of ancient monuments. The village is best known as the home of the Tudors of Penmynydd and magnificent Plas Penmynydd, built in 1576 by Richard Owen Tudor.
Today, Penmynydd is little more than a scattering of pretty cottages, with dramatic views of the countryside, coast and mountains. Welsh traditions are alive and well in this part of the country, so if you are looking for an authentic experience in a beautiful location, a holiday cottage in Penmynydd could be an excellent choice. Within a few miles of the village, you will discover several tranquil footpaths, where you can walk for miles without seeing another soul. Completing at least a small section of the 125-mile Anglesey Coast Path is also recommended, with towering cliffs, atmospheric monuments and the chance to spot rare birds and passing dolphins.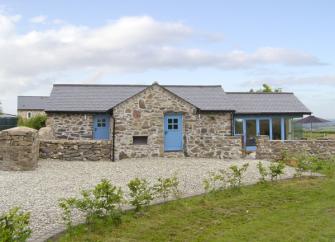 Based on the Isle of Anglesey Bwthyn Gwyn is a meticulously restored stone built barn conversion, reappointed as a vibrant and welcoming holiday home in the countryside. Perfect for small families, the two-bedroom property combines contemporary comforts with rustic style for a relaxing breakaway.