Newlyn Harbour in West Cornwall
The fishing town of Newlyn lies on the shores of Mount's Bay, on the South Cornwall coast, just south of Penzance. It is home to one of the UK's largest fishing fleets, and the harbour bustles with the comings and goings of beam trawlers, crabbers and long-liners. The harbour is vast, with medieval harbour walls dwarfed by the walls of the South and North piers. The town is also famous for the Newlyn School of Art, which was established in the 1880s when many celebrated artists were attracted by the coast's unique light. The harbour is backed by a maze of narrow streets packed with tiny fishermen's cottages, many of which have been converted into holiday accommodation. Highly recommended on self-catering holidays in Newlyn, there are two fishmongers where you can pick up the finest produce fresh from the harbour, and a regular fish market.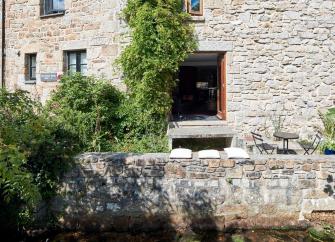 Riding Through the Clouds is a stylish converted fishing warehouse in Newlyn on the Cornish coast. The chic coastal cottage boasts exposed stone walls and local art, as well geothermal heating and open-plan design, plus a spacious terrace that captures the sun and leads to the nearby Coombe River.