Under the Welsh Berwyn mountains and by the banks of the River Dee, you'll find Corwen town. Corwen's foundational economy is farming, and, given the beautiful countryside around it, you won't be stuck for local foods or rambling walks, making Corwen a wonderful location for a self-catered cottage. In fact, by June, you can take part in the 'Walks with Wildlife' event, touring the local woods and learning more about the natural habitat of Northern Wales. Alternatively, Adventure Mountain contains lots of bike trails and parks, perfect for a picnic and a ride around with the kids. Visit the Amgueddfa Corwen museum to learn more about the town's heritage, and then stop by one of the town's local pubs. There's lots of quaint shops to browse, and don't forget to pop by Corwen Manor – the old workhouse – for its fascinating, rich history and fine selection of anything from fishing gear to gifts.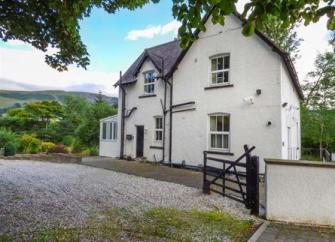 Sitting on the edge of the village of Carrog near Corwen in Denbighshire, The Mill House is a lovingly maintained Edwardian farmhouse overlooking the River Dee. This pet-friendly five-bedroom home is ideal for large group or family trips to Snowdonia.
This large mid-Wales holiday cottage near Lake Bala is located on a peaceful country estate where facilities include use of a heated indoor swimming pool and tennis court. Beater's Cottage sleeps 8 in 4 bedrooms and is within easy reach of Lake Bala, Snowdonia and North Wales beaches.
Tranquillity is assured at Hay Store, a rural cottage surrounded by countryside in Corwen, North Wales. Situated just moments from Snowdonia, the pet-friendly cottage offers spacious, furnished grounds with a hot tub, reminders of yesteryear, tiled floors, contemporary comfort and fresh clean air.