The historic, and still privately owned village of Clovelly is situated on the beautiful North Devon coast just 12 miles from Bideford and 17 miles to Bude and is a popular location for seaside self-catering holiday cottages on the North Devon coast. The village dates back to the 9th century, being once owned by the King of England before being taken over by a local family.
The village is well known for its steep, cobbled high street which is no longer possible for vehicles to drive down, preserving the picturesque cottage filled street. A 'bypass' (not that you would recognise it as such) offers a taxi service in Landrover vehicles to those averse to walking up or down the steep hill in Clovelly. In days gone by goods would have been carried up by donkey including visitors' luggage. Nowadays the 12 donkeys are no longer working in this way but are still a big part of the village life offering rides to children around their meadow as well as posing for photos in the street!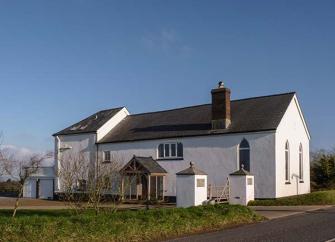 The Old Chapel is a majestic coastal cottage just moments from the beautiful beaches of Clovelly in North Devon. The former chapel boasts 10 acres of meadows with a pond as well as sea views, church windows, vaulted beamed ceilings, a floor-to-ceiling fireplace and many more original features.