Crediton is a lively historic town located at the heart of Devon surrounded by picturesque countryside and olde-worlde villages with thatched holiday cottages and sleepy pubs. Most vacation cottages are equipped to provide all the facilities a family will need for their self catering holiday in this peaceful part of Devon.
The town itself is located in the narrow vale of the River Creedy, between two hills. Crediton itself is split in to two main areas, the old town and the new town. Crediton is home to St Boniface one of the most magnificent churches in the UK, which looks more like a cathedral due to its striking size and grandeur. The towns close proximity to Exeter, and the amount of attraction nearby that are ideal for younger ones, makes Crediton the ideal place to enjoy a child friendly holiday home in Devon.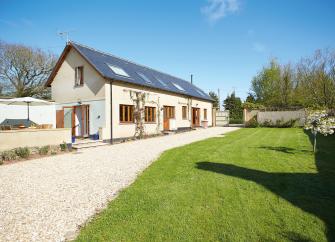 Long Meadow Barn offers bucolic views over Down St. Mary from its spacious gardens as well as light and airy modern rooms inside the converted barn. The generous sitting room features a woodburning stove and the remainder of the rural cottage in Devon has been decorated with care and attention.