Photo: Gitcombe House, Totnes. View more...
Totnes in South Devon is a lively, bustling Tudor market town and port, home to a splendid range of quality holiday cottages, apartments and townhouses. The Normans came to stay in the 11th Century, building Totnes Castle, (now open to the public) which remains perhaps one of the best-preserved Norman Motte and Bailey castles in England. The architecturally attractive town centre is filled with a fabulous choice of independent shops ranging from organic foods and boutiques to galleries and bookshops. Town Traders are well-known for their stance on protecting their local shops against the might of the multi-nationals - even giving the town its own currency, the Totnes Pound which visitors can purchase and spend in Totnes shops.
A market which has been held in the town since Elizabethan times is popular with residents and visitors alike, being full of locally grown produce and handbuilt crafts. For visitors enjoying a supposedly self-catering holiday in Totnes, it will be hard to resist the allure of the many fine restaurants lining the town's ancient streets and alleyways. It's a great weekend-break location for Christmas shopping or top culinary experiences! Oh - and it still has a steam railway! The Dart Valley Railway which chugs from Totnes to Buckfastleigh (and back).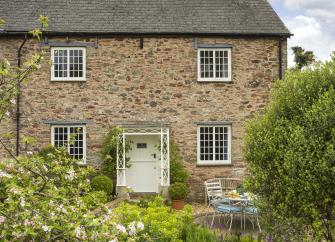 Rose Cottage is a gorgeous stone-built 1600s Grade l Listed cottage in Ashprington, Devon, which boasts a delightful garden and a thoroughly sophisticated interior. The luxurious rural cottage offers multiple spaces for relaxation both indoors & outdoors, as well as a wood burner and modern style.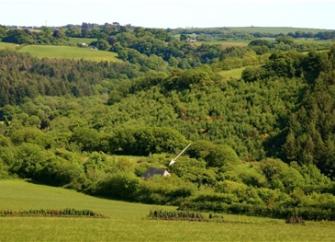 If you are looking for a romantic holiday cottage in a secluded rural location in South Devon, within easy reach of gorgeous beaches and the rugged wilderness of Dartmoor, then Lower Clunkamoor Cottage will tick all your boxes. This delightful cottage for two sits in its own private nature reserve.