Updown Holiday Cottage, 2nd left on Gold Hill in Shaftesbury, Dorset
Sit at the top of Gold Hill in Shaftesbury, made famous by a Hovis TV Advert in the 1970's and enjoy a cup of coffee while admiring widespread views of Blackmore Vale. Stroll down the hill to visit the Gold Hill Museum and Garden set in one of the traditional sandstone cottages lining the street. Inside you'll find many fascinating local artifacts from a fire engine to a mummified cat. Outside relax in the traditional cottage garden. There are some idyllic cottages on Gold Hill now available as holiday lets.
There's much more to Shaftesbury than Gold Hill.The town's Abbey was founded by King Alfred in the 9th Century and was an important centre for 600 years until Henry VIII had it largely destroyed during the Reformation in 1539. The ruins, now part of a lovely garden, are well worth a visit while its museum conveys the life of the Benedictine nunnery, the most important in England during the Middle Ages.
Shaftesbury is full of independent cafes, restaurants and traditional pubs offering a huge variety of foods including vegan, some of the best Indian food anywhere and excellent local produce.
Turnbull's Deli, owned by Charlie Turnbull, a world cheese judge, serves all day breakfasts, cakes, coffee, light meals and a cheese selection that is second to none. The Grosvenor Arms has been transformed into the perfect country chic small hotel where you can relax in squashy sofas at any time of day and enjoy their superb restaurant before the gentle 1 minute stroll back down Gold Hill to the cottage.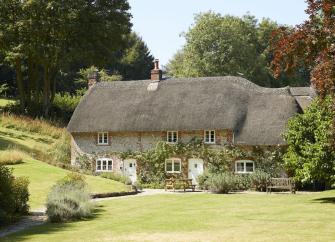 Magna Cottage is a 300-year-old thatched cottage with a thatched roof and abundant character, as well as a large mature garden and many homely comforts. The pet-friendly cottage in a secluded corner of Dorset near Shaftesbury boasts an inglenook fireplace, contemporary style and beautiful views.