Llangovan is a small village in the county of Monmouthshire, in southeast Wales. It is surrounded by rolling hills, beneath the Trellech ridge, five miles southwest of Monmouth. On the eastern edge of Llangovan, a gentle brook marks the boundary of the Wye Valley Area of Outstanding Natural Beauty, a magnificent stretch of wooded glades, river valleys and ancient ruins, right on the border between England and Wales.
Explore the village from your holiday cottage in Llangovan and you will find a traditional community which time seems to have forgotten. There are no shops or cafes in Llangovan, only a scattering of pretty homes, making it the perfect place to unwind and savour a slower, rural pace of life. There are a number of historical landmarks in and around the village, including listed Llangovan Church, which is now closed and home to a colony of bats, and Court St. Lawrence, another listed building which was once the home of Sir Geoffrey David Inkin, the high sheriff of Gwent.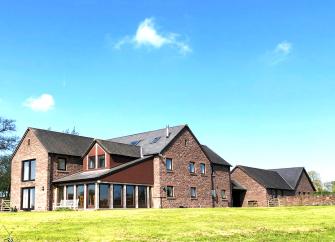 Orchard House is a large and luxuriously furnished Monmouthshire Holiday Cottage nestling deep in the Llangovan Valley on a cider apple farm. This family and dog-friendly countryside cottage sleeping 24 in 10 bedrooms (8 bathrooms) in a rural area of outstanding natural beauty. Pets Welcome.