The bustling town of Sheringham lies on the Norfolk coast, 50 miles north of Norwich. Sheringham is surrounded by gorse and purple heather countryside, at the foot of a rugged hill, known as Beeston Bump. This ancient farming and fishing community has been supplying crab, herring and lobster to London's fish markets for centuries, and it's still an excellent place to enjoy seafood straight from the North Sea.
Backed by a sweeping promenade and rows of colourfully painted beach huts, Sheringham's sand and shingle beach is a glorious spot for sunbathing, wandering along the coast or a bracing dip in the sea. From your holiday cottage in Sheringham, the attractive High Street will be a short stroll away, with a variety of independent businesses to explore, including shops specialising in arts and crafts, antiques and bric-a-brac. Every Saturday, a renowned market is held next to the railway station, with stalls selling fresh produce from the surrounding countryside. A number of impressive buildings are scattered throughout the town centre, including magnificent St Joseph's Church, Sheringham Hall and Sheringham Watermill. If you fancy an evening out, see what's on at Sheringham Little Theatre, a charming venue with an excellent programme of music, drama and pantomime.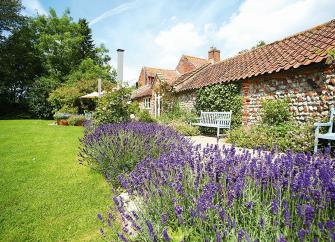 The perfect rural retreat, surrounded by unrivalled views of open countryside, this delightful property at Wickmere near Sheringham has antique furniture, exposed beams and a wood burning stove. The seaside town of Cromer is nine miles away.