Find My Favourite Holiday Cottages in Carno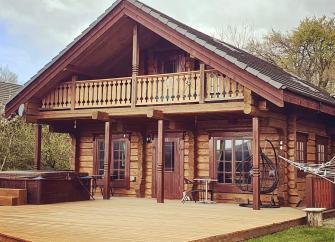 Unwind in the heart of Powys countryside with a warm welcome from Hugh, Sarah, and their family at Ty Ceirios, a remarkable eco-lodge with a hot tub in Carno. You're about to embark on a log house holiday like no other, carefully crafted with love and attention to detail, making it the perfect destination for a romantic retreat, a relaxing family vacation, a laid-back reunion with loved ones, or even a cherished honeymoon.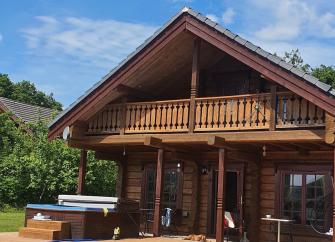 Introducing Ty Afal (Apple House), your charming Powys Holiday Cottage nestled in the heart of the Mid Wales countryside. This eco-friendly holiday lodge with a hot tub has been lovingly handcrafted on our working family farm. It promises an unforgettable self-catering rural retreat.
From the moment you arrive, you'll sense the warmth and dedication we've poured into every detail, ensuring your stay is nothing short of extraordinary. Whether it's a romantic getaway, a family retreat, a laid-back reunion with loved ones, or your cherished honeymoon, Ty Afal is here to create lifelong memories.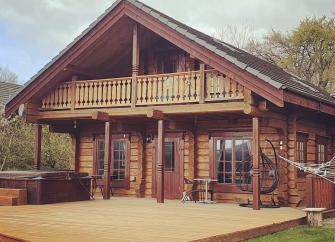 Discover Tŷ Peren (Pear House), an eco-friendly holiday lodge in the heart of Powys countryside. Crafted by master craftsmen for Dŵr Y Felin, this spacious log cabin combines traditional building methods with subtle renewable technology. Immerse yourself in the log house experience while enjoying the unique blend of sustainability and comfort. With a hot tub offering relaxation amidst picturesque surroundings, Tŷ Peren is the perfect choice for self-catering holidays in Powys, promising an eco-conscious retreat in a tranquil village setting.