Cullen holiday cottages are a stone's throw from rocky coves, snowy mountains and world-famous Speyside whiskey distilleries. Cullen is a small village in Moray, Scotland, built around the mouth of the Burn of Deskford and framed by a series of soaring viaducts. It lies on the North Sea coast, 20 miles east of Elgin. Famous for Cullen Skink (a soup made with smoked haddock, milk, potato and onion) and its association with Robert the Bruce, this ancient town is an atmospheric base from which to explore the wild scenery of Moray.
From your holiday cottage in Cullen, wander down to the coast to the pretty harbour, designed by Thomas Telford, and the long, sandy beach. Don't miss the railway viaducts, which are among Scotland's most iconic landmarks. On the outskirts of Cullen, footpaths offer tranquility and spectacular views of the surrounding coast and countryside. Cranoch Woods is a great spot for wildlife-watching with breathtaking views of the area, while nearby, a strenuous climb will take you to the summit of 1,086ft Bin Hill. Cullen is divided into two areas: Seatown of Cullen, which lies between the seawall and the main road with stone fishermen's cottages, many of which are perfectly positioned for watching the winter storms, and New Cullen, the inland half of the village, stretching along the main street with a variety of family-run shops.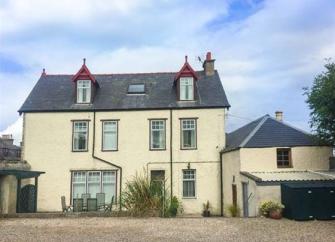 The North East Coast of Scotland is adored for its scenic coastal walks all year round. 1 Seafield Street in Cullen, a historic coastal town on the Murray Firth, is a large holiday cottage sleeping up to 10 adults + 2 children in spacious, well-equipped accommodation. 1 well-behaved pet is welcome.