Staffordshire Holiday cottages in Oakamoor are popular among visitors to the Peak District National Park. Directly to the village's north, you will discover rugged limestone dales, moors and gritstone edges, scattered with spa towns, mining villages and Elizabethan manors. Exploring the park's valleys, gorges, lakes and woods by foot is a joy, and solitude remains easy to find, despite the area's popularity.
Oakamoor is a pretty Staffordshire village on the banks of the River Churnet. It has a rich industrial history of smelting iron and gathering lumber and copper from the surrounding valley. Signs of the village's past still dot the landscape, including the remains of a blast furnace, and a disused railway track, which is now a footpath. In the heart of the village, the Cricketers Arms is a friendly pub with a range of local ales. On the northern edge of Oakamoor, Cotton Dell is a picturesque spot for a walk, where a footpath follows the banks of a gentle stream through dense woods. There is also a secluded picnic site on the southern edge of the village, on the banks of the river.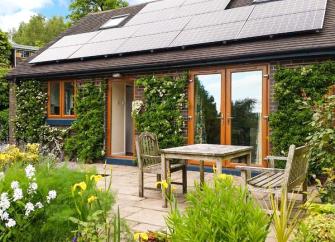 Within the quiet hamlet of Moneystone, Barks Cottage is nestled within the boundless greenery of the Peak District. This single-story countryside cottage is a lovingly maintained spacious holiday home amidst peaceful Staffordshire scenery - an idyllic rural getaway. Pets welcome.