Monmouth is the county town of Monmouthshire. It lies in the Wye Valley, where the River Wye meets the River Monnow. It was once the site of a Roman fort and was established after the Normans built a castle here. Exploring the town centre from your holiday cottage in Monmouth, you will notice striking landmarks such as a stone gated bridge – the only one of its kind in England. There are a variety of independent shops in the town centre, many of which are on Monnow Street. Cobbled and pedestrianised Church Street is also worth exploring, with a bookshop, a craft shop and some excellent cafes and restaurants. A market is regularly held near the bridge with a range of stalls selling fresh produce from the Wye Valley. If you fancy a pint of local ale before returning to your holiday cottage in Monmouth, try the Punch House, the Griffin or the Old Nags Head. Alternatively, see what's on at the Savoy, a charming theatre and cinema on Church Street. Monmouth is well-known for its busy events calendar including the Monmouth Show, which has taken place every year since 1919.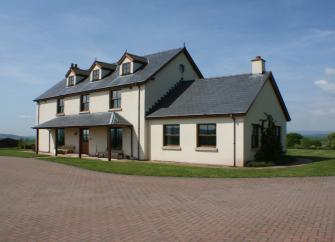 High Cloud is a large and comfortable Wye Valley Farmhouse and separate Barn in Monmouthshire with a swimming pool and hot tub. High Cloud offers self-catering holidays in a secluded countryside location - no neighbours or traffic noise, just panoramic far-reaching rural views. Pets welcome.
The Manor on the Monnow is an impressive baroque manor house located on the east bank of the River Monnow, just a short walk from the centre of Monmouth. The property comfortably accommodates 24 guests in 11 bedrooms/9 bathrooms, with spacious communal areas, great outdoor space, and a hot tub too!